After 2 years it was great to get out on to the streets playing in front of crowds again.
Saturday the 12th March we were playing at the Derby St Patrick's Day Parade. This was the last event that we played at in March 2020 before lockdown 1 was introduced. We had a great time playing from the start point at St Mary's through the city centre to the end point at the Derby Irish Centre. As usual we had a great reception from the organisers and supporters and it is always a pleasure to play.
On Sunday 13th we played for the Birmingham St. Patrick's Festival. We started at St Annes in Digbeth and marched to Digbeth High Street where, due to no road closures and a huge amount of road works we broke ranks and made our way down to the main stage area where all the days entertainment would be taking place.
We started the days festivities off with a 15 minute set playing many great traditional and new tunes.
We have been fortunate to have 5 pipers join us just before Christmas and it is great to have them in the ranks playing with us. It certainly gives us a bigger presence when out playing.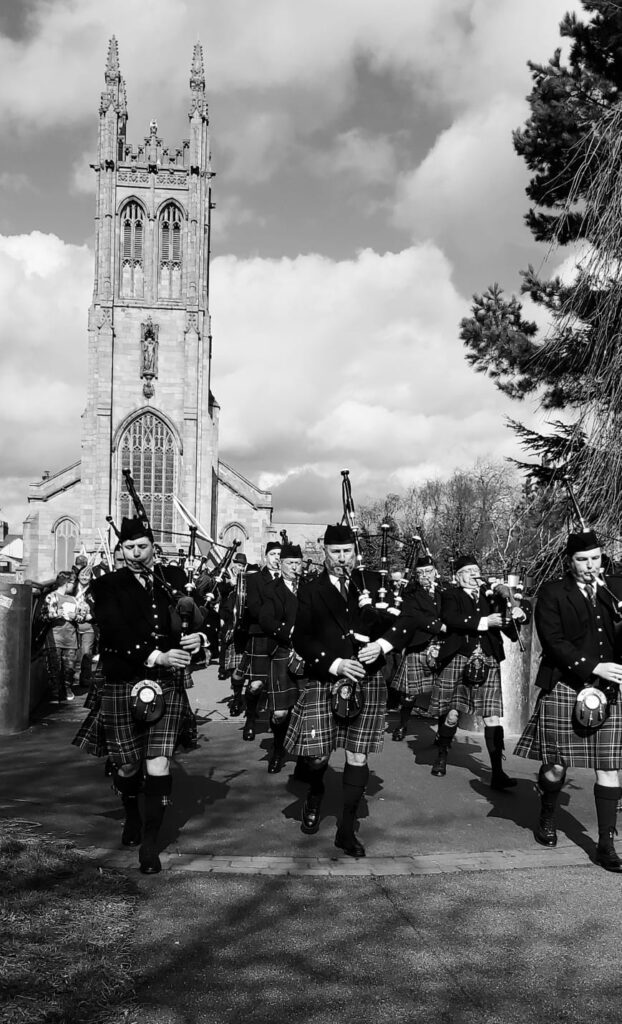 A big thank you to the organisers of the Derby Parade and the Birmingham Festival. We really enjoyed getting out and playing in front of crowds again, Both events were really well organised.
We practice on a Tuesday evening 7.30pm to 9pm at The Sanctuary, Tangmere Drive, Castle Vale, Birmingham B35 7PX. Whether you have played Pipes or Drums before or you are a total beginner it would be great if you wanted to come along and join the band. You can contact bill@bipd98.co.uk or joel@bipd98.co.uk for any details or ring Bill on 07970 924073.