We have been really busy over the last few months with plenty of practice going on for the Indoor Competitions that we have taken part in at The Birmingham Indoors and Wirral competitions where we did really well with our new 2/4 set of competition tunes. We are entered for The Corby Highland Gathering on the 10th July, The World Championships in Glasgow on the 13th August and Chatsworth English Championships on the 4th September. We have recently added a March, Strathspey and Reel set to our repertoire which we hope to compete with at Chatsworth and a Medley set which we will start to compete with in 2017.
We are playing at Shifnall Carnival, Acocks Green Carnival and Astwood Bank Carnival over the summer. (All details can be found on our events page), and on Saturday the 18th we played for The Wildlife Trust outside of Birmingham Central LIbrary. A great event that was supported by a wide range of different concerns.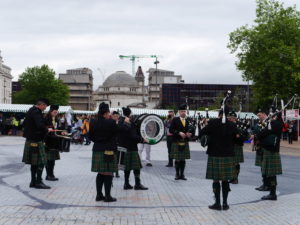 To get in touch with the band please see all our details on the contact page.