In January of this year (2019) Joel Grigg was voted in as Pipe Major and Thomas Coughlan was voted in as Pipe Sergeant when Bill Grigg and Pat Cox handed over their roles to a younger generation. After 16 years of being at the helm both thought it was an ideal time to hand over their roles to younger members to take the band forward.
The band was formed on the 15th September 1998. It originated from the newly resurrected Birmingham St Patrick's Day Parade. Many people who knew each other with a nod and a hello came together at a meeting held at the Irish Centre in July 1998. They had all played with pipe bands back in their home towns or villages as youngsters in Ireland. The first ever practice took place at SS Mary & Johns' School on the 15th September 1998 and from that moment the band has gone from strength to strength. It has recently taken part in its first competition with many more to come.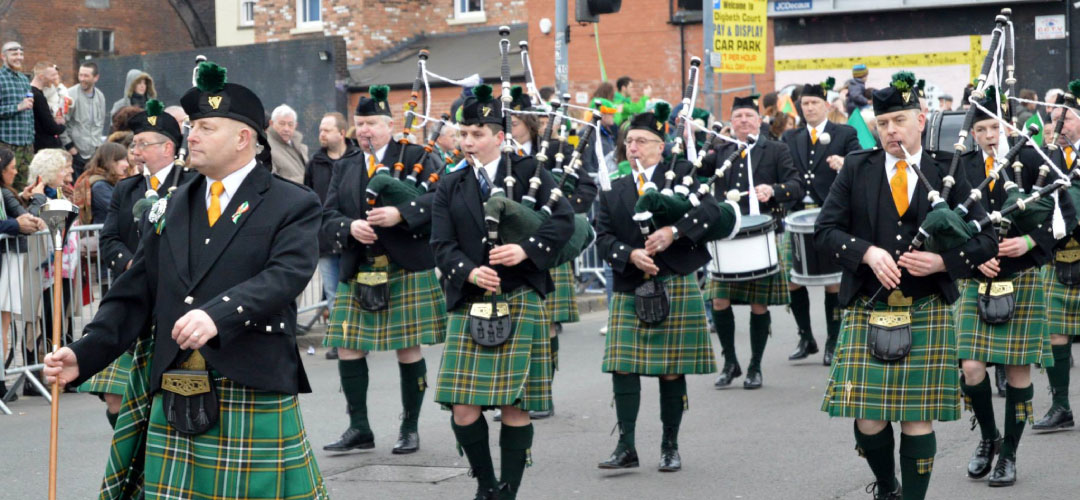 We have been extremely fortunate to have played at so many interesting and various events over the years. We have played in Leitrim, Mayo, Monaghan, Wicklow, Kerry and New York as well as all over England. We have met a great many people and friends along the way. More recently we have recorded the 2011 Christmas special with Westlife, we have appeared on stage with The Chieftains on their 50th Anniversary World Tour and played the Olympic torch in and out of Birmingham on its route to London.
Many people have passed through the ranks of the band and each and every one of them has added to our ethos which is to play traditional Irish Pipe music to as many people as possible.
Shane O' Neil was the first Pipe Major of the band. Shane was a trainee teacher in Birmingham and had seen a poster looking for members for the band. When he played the pipes it was like hearing them sing. he eventually admitted that he had been All Ireland U-18 Champion.. we had our first Pipe Major! As Shane moved back to Ireland Frank Brennan took over as Pipe Major. A Monaghan man who had played in his village Pipe Band as a youngster continued to carry on the good work that Shane had started and the band grew and played more and more events. Frank suddenly passed away in November 2002 at an early age. Frank played a huge part in the bands' progression and the development of youth in the band.
Bill Grigg was appointed Pipe Major and still leads the band today. The band is looking to enter competitions in the 2012 – 2013 season and look forward to entering the competition circle and doing the best they can against other competing bands. Our first competition was the Birmingham Indoors held in Smethwick Birmingham on the 24th March 2013. In the Trios the band came 6th / 10th and 12th a good result for our first competitive outing.