It has been a while since the last update but that will change over the next few weeks as we will keep updating the site regularly.
It has been a great 2 weeks with the parade in Birmingham on the 11th March and the parade in Derby on the actual day itself, the 17th.
It was a great parade with glorious weather for the day. As always well done to all the organisers, participants, and the crowd on the day. A very special well done from me to all the band and all the supporters and those in the background that work really hard and made the day great for the band. We looked good, sounded good and did a very, very good job of leading the worlds 3rd largest St Patrick's Day Parade around the streets of Birmingham. Next year will be on the 17th itself. What a day that promises to be.
The weather on both days could not have been so different, Birmingham basked in spring sunshine whilst Derby was sub zero with a biting wind.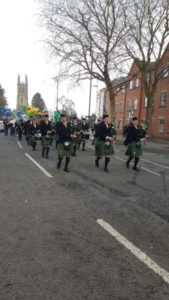 Sunday 25th March will see us at the Birmingham Indoors competition where we will be playing trios and mini bands. Saturday the 28th April we are privileged to be playing at Menin Gate in Ypres Belgium as part of the nightly Last Post celebration. We are all really looking forward that that event. There are many carnivals and competitions to come over the summer and we will keep you updated.